Top Locations for Fall Family Photos near Evergreen Colorado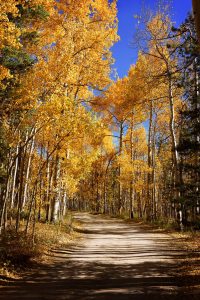 Summer is still rockin' in all its glory here in Evergreen Colorado. The wildflowers are amazing, all the warm sun is about the best thing since sliced bread and the kids all go back to school in just two short weeks. Wait, what? Yup. Two weeks. While we are here lounging in our deck chairs, trying to ignore the 89th spat between our kids and contemplating our next margarita, autumn is sneaking up behind us. Before you know it, you'll be swapping that adult beverage for a Pumpkin Spice Latte on your way to battle the drop-off line at your kids' school.
Am I bummed? Perhaps a little. I mean, all the Vitamin D and the afternoon thunderstorms are some of my favorite things, but I would be lying if I said I wasn't a little excited for autumn, too. Sweaters, boots, cute scarves and yes, pumpkin flavored everything. There is so much to love about fall! It is also the busiest time of year for family photo sessions, making it that much more amazing for me!
One of the most difficult things about planning a family photo session, aside from picking out the perfectly coordinating outfits that everyone in the family will love, is choosing the perfect location. The saying, "Location, location, location!" holds true for Evergreen real estate AND photography. If you are going to go through all the trouble of finding the perfect outfits for everyone, you might as well go all out and make sure you land the perfect background, too!
So, while you handle making sure the kids all get haircuts, the clothes get ironed, your husband doesn't wear the outfit you have planned for him the day before the session and you have the proper amount of time to devote to your hair and makeup (whew! I see you, Super Mom!), let me take this one item off of your to-do list:
My top 5 locations for gorgeous fall family photos:
Mid to Late September:
Bear Lake in Rocky Mountain National Park: Make a day of it and drive up to the "The Park," as my in-laws call it (they live in Estes Park). Bear Lake is one of MANY available options that will be all be sure to take your breath away any time of year, but especially in fall when the high altitude aspens begin to change from green to gold.


Kenosha Pass: So. Many. Aspens! The drive itself to this spot is so scenic, but the amount of fall colors on the trees when you get to the pass is overwhelming in scope. There are a multitude of possible spots to take photos here on both sides of the highway. This location is more heavily trafficked, so be sure to leave early and bring lots of snacks and patience.
Late September to Mid October:
Meyers Ranch: I'm sure if you've ever traveled the 285 corridor or have kids who love to sled in the winter, you know the place I'm talking about here. There are a lot of aspens right at the beginning of the trailhead, which translates to a shorter walk for you (hello, heels!) and less opportunity for the kids to get their perfectly coordinated outfits dirty. There also happens to be the most beautiful grass with green, orange and red that lights up in the late evening sunlight.


Silver Plume and Georgetown: Conveniently, there is a railway connecting the two mountain towns, The Georgetown Railroad, so grab yourself some train tickets for the whole family while you're in the area and extend the fun! There is the beautiful Georgetown Lake as a possible photo spot, not to mention the old west charm of both towns' downtown areas.
The Month of October:
Golden Gate Canyon State Park: Awe-inspiring views of the Rocky Mountains behind the gorgeous golden hues of the aspen trees abound here! A short drive from Denver and the Foothills communities, this location is a no-brainer, so grab your hiking boots so you can switch them out with your cute heels, when you hit those photo-worthy groves!
October to Mid-November:
-Denver metro: The Denver area has more beautiful parks and scenic trails than I care to count, and all are filled with not just aspens, but a variety of trees that are more than happy to share the spotlight when it comes to those autumn hues.  Some of the more popular parks are Cherry Creek Bike Trail, City Park, Washington Park and Sloan's Lake.
There you have, Super Mom! I hope I've helped lighten your incredibly heavy load just a little bit. Now go ahead and get yourself another margarita. I promise not to judge. I'll just be here, sitting quietly waiting for my invite to come over and share! Continue mastering the art of attempting to relax while refereeing yet another spat of sibling rivalry and know that I am here for you, Momma. I got your back. Call me when you are ready to book that fall family photo session and I'll be sure to have a pumpkin flavored something waiting for you when I see you. And a hug, because seriously, you rock.
Michelle Brien - Colorado Family Photographer
Shelly Lyn Photography
shellylynphotography.com
Our Blog Wars was a huge success! Please feel free to submit a blog anytime.