Wildfire Preparedness
Evergreen & Conifer rank #1 in Colorado and in the top 10 nationally for for catastrophic wildfire with the potential for significant loss of life.
Please watch this video below Learn how a fast moving wildfire destroyed a town of 27,000 in just 6 hours. You'll believe you're watching Evergreen.
This is the Documentary Film now Sponsored by the Rotary Club.
Please Be Aware of Fire Restrictions & Bans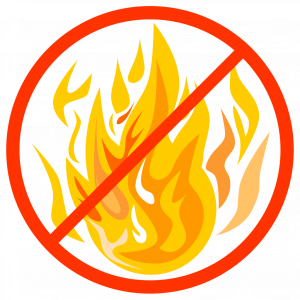 Evergreen Fire Rescue encourages you to continue using due diligence with any live fire. Before you light a campfire of any kind please check to be sure there is not a Fire Restriction or Fire Ban in effect. Campfires should be called in to the fire department at 303.980.7300 before you light them and after you extinguish it. Please be sure to fully extinguish your cigarettes, campfires and charcoal grills.
Fireworks Prohibited During Fire Restriction or Ban
What Can I Do To Protect My Home?
Is Your Neighborhood Part of a CWPIP?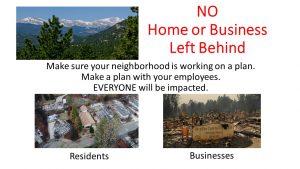 [Click Here] to visit the Evergreen Fire Rescue Wildfire Prevention web page for detailed Community Wildfire Protection Implementation Plans & Maps.
[Evergreen Fire Protection District Plan Units/CWPIP Map ](PDF) provided by Paul Amundson, Wild land Coordinator at Evergreen Fire Rescue
If your area isn't listed, don't wait for disaster to strike! Work with your neighbors to get a CWPIP for your area.
NO HOME OR BUSINESS LEFT BEHIND!
Make sure your neighborhood is working on a plan.

Make a plan with your employees.

EVERYONE will be impacted.
2020 Jeffco Slash Collection
It's Wildfire Season ... Protect Your Home!
Clear your property and bring your tree debris to the Jefferson County Slash Collection! For 2020, we'll be somewhere in Jefferson County every weekend from June 6 through Nov. 1. Check back as the locations are being finalized.
What is Slash?
Slash is debris, from nature, such as tree limbs, prunings and pine needles. If not removed, slash can add to potential fire hazards on your property. The importance of mitigating and preparing your property for wildfire cannot be overstated - and again this year, Jefferson County is your partner in this effort.
The Importance of Mitigation
Removing slash and creating a defensible space around your home, is the first line of defense against wildfires. You can create zones around your home, removing any fire fuels, such as tree debris. Having a properly mitigated property doesn't mean that wildfire will pass you by, but it gives the fire department a better opportunity to save your home when it does come. Great tips on how to protect your home and property can be found on the Jeffco Sheriff's hazard mitigation page and at Fire Wise website.
What Can I Do To Prepare My Family?
‪Looking for ways to help EFR firefighters in case there is another wildfire in our community? Get your "go" kit ready so when you receive an evacuation notice you are prepared. Here is a great resource: rotarywildfireready.com/go.html
Sign up for CodeRED Evacuation Alerts [Next Tab - GET NOTIFIED!]

Review your Wildfire Evacuation Checklist, provided by Rotary Wildfire Ready

Create a Go-Bag for Emergency Supplies, provided by Rotary Wildfire Ready

Find out if your neighborhood has a text group to connect in case of emergency.

Make sure you know an alternate way (or two!) to escape your neighborhood in case of a fire emergency that blocks the main road.

Drive your planned route of escape before an actual emergency.  This is most likely the route you normally take to leave your community, as that's typically the shortest and is the route you're most familiar with.

The darkness and flames of a fire can be disorienting. Familiar landmarks may not be recognizable, so try and get as familiar as you can with your route in advance.
What to Do When Evacuation is a Possibility
Plan Your Evacuation Routes
Unable to Evacuate on Your Own
If You Get An Alert, or Feel Unsafe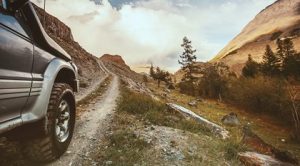 Leave immediately if you receive a notification or alert to avoid being caught in fire, smoke or road congestion. Don't wait to be ordered by authorities to leave if you are unsure, feel threatened, or lose power or communications. Law enforcement will direct the evacuation, and they will keep intersections open and moving, but their resources may be limited. Evacuating early (before evacuation is ordered) helps keep roads clear of congestion, and lets fire apparatus move more freely to do their job. If you are advised to leave, don't hesitate!
What if There is Traffic or My Road is Blocked?
My Neighborhood is One Way In/Out
If Safe Evacuation is Not an Option
Wildfires are unpredictable and spread quickly. Even if you've prepared in advance, you may be required to "shelter in place" if ordered or if you find yourself trapped by a wildfire. To survive this frightening scenario, it is important to remain calm and keep everyone together. Prepare yourself mentally for darkness (even during the day), noise, chaos, and the natural urge to flee the safety of your shelter.  If you're unable to evacuate, it's probably safer INSIDE a car or building where your airway, eyes, and skin are protected!
Take shelter in the nearby place that is best able to withstand the fire. This may be your home, another building made of more resistant materials or that is less exposed to burning vegetation, your car, or an open outdoor area like an irrigated playing field or parking lot far from vegetation. Stay calm and together while the wildfire passes. When directed, or when the fire outside subsides, move to a safer area.
Shelter in a House or Building
Outside the Home or on Foot
A statewide effort, that starts with your neighborhood!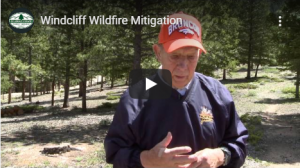 Landowners all over Colorado are taking actions to reduce their wildfire risk. Learn about the work the Windcliff community in Estes Park has been doing to encourage community involvement in wildfire mitigation efforts, by watching this video.
Jeffco Wildfire Risk Reduction Task Force
Jefferson County Wildfire Risks, Challenges, Priorities, & Efforts
Impact of 100,000-acre wildfire in west Jeffco:
10,000 homes in the fire footprint

100 businesses destroyed

60,000 people evacuated

$5-10 billion in losses

$250 million in direct and indirect costs
Source: Jeffco Wildfire Study Session, May 2019
Assistance Landowner Wildfire Mitigation
Concerning wildfire mitigation assistance for landowners.
SESSION: 2020 Regular Session \HB20-1004
SUBJECT: State Government
BILL SUMMARY
Wildfire Matters Review Committee. The bill establishes the wildfire mitigation
resources and best practices grant program (grant program) within the division of
local government in the department of local affairs. Grant recipients use grant money
to conduct outreach among landowners to inform them of resources available for
wildfire mitigation and best practices for wildfire mitigation. The grant program only
awards grants to applicants conducting outreach to landowners in high wildfire hazard
areas and prioritizes applications based on the potential impact of the applicant's
proposed outreach.
The bill also extends the increased wildfire mitigation income tax deduction
that allows a landowner to claim 100%, rather than 50%, of the costs they incur in
performing wildfire mitigation measures.
Hazard Mitigation Grant Program
Fire Prevention & Control Employee Benefits
Links to other Wildfire Related Organizations